Krijtverf Classico van Pure & Original
Pure & Original Classico Krijtverf is muurverf met een matte en zachte uitstraling met een aaibaar effect. De krijtverf is door het gebruik van natuurlijke pigmenten in een extra hoge dosering een zeer diepe, intense en volheid van kleur en beleving. De Pure and Original Krijtverf is leverbaar in 184 Pure & Original kleuren en is rechtstreeks aan te brengen zonder primer. Een egale matte dekking met een warme en krachtige sfeer, zelfs in de zachtste tinten. Vandaag besteld voor 15:00 uur, is morgen al in huis!
Een hoger rendement met Pure & Original Krijtverf
Door het gebruik van hoogwaardige duurzame grondstoffen en de natuurlijke pigmenten, ligt het rendement veel hoger dan bij andere verfsoorten. Met één liter verf kun je 10-12 vierkante meter verven. Dit is veel meer dan met een gemiddelde standaard muurverf. Uiteraard is dit wel afhankelijk op basis van de ondergrond.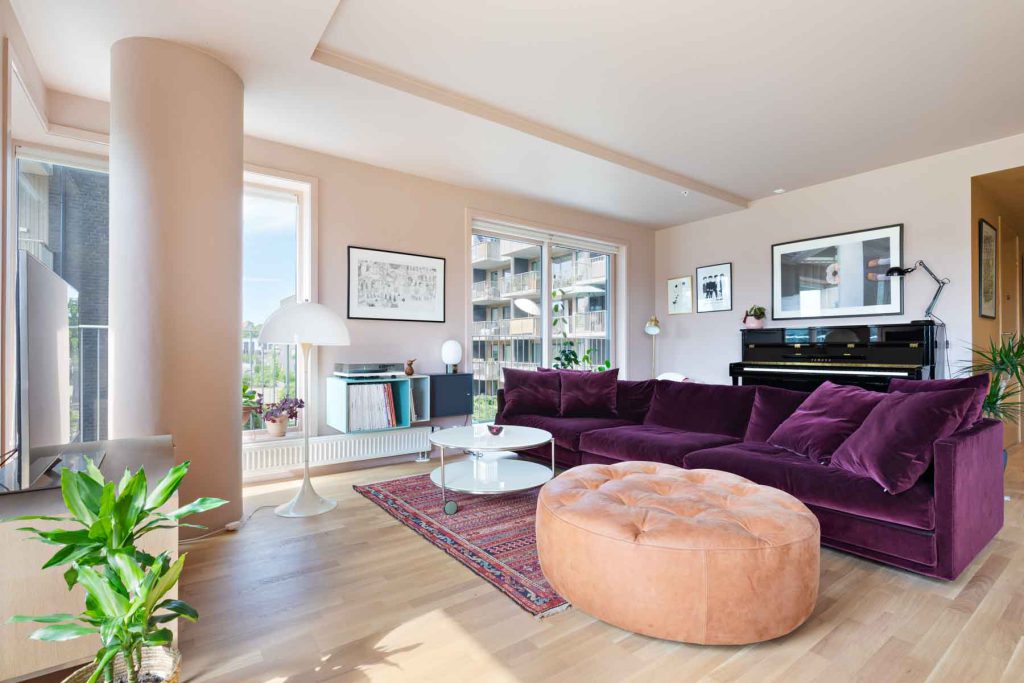 Super mat.

Muurverf voor binnen.

Afwasbaar.

Milieuvriendelijk.

Professionele krijtverf op waterbasis. 

100% natuurlijke pigmenten.

Fluweel poederig.

Heel eenvoudig verwerken,

Aan te brengen als een standaard muurverf,

Wordt aangebracht met een rol, kwast of airless.
Pure & Original Krijtverf is direct, zonder primer (*), aan te brengen op latex, muurverf en behang. Het behang moet wel goed vastzitten. Ook hier geen verschil met een normale muurverf. Als u de roller of airless spuit gebruikt, zult u een mooie egale uitstraling krijgen. Verdun de verf met ca. 10 procent. Wilt u het klassieke krijtverf streep effect op de muur, breng dan de krijtverf onverdund aan met een Pure & Original kalkkwast. U verkrijgt nu de mooie authentieke kwaststreken van de krijtverf op de muur. Dit geeft een warme, zeer moeilijk na te bootsen effect. (*De krijtverf is zonder primer aan te brengen, als de ondergrond in goede staat is). Voor het beste resultaat adviseren wij, technisch gezien, de Pure & Original Wallprim als voorstrijkmiddel aan.
Wij hebben de prachtige verf producten van Pure Original Krijtverf en Pure & Original Kalkverf al verzonden naar o.a. Voorthuizen, Barneveld, Lunteren, Scherpenzeel, Ede, Veenendaal, Kootwijkerbroek, Amersfoort, Ede, Renswoude, Kootwijk, Uddel, Harderwijk, Ermelo, Nijkerk, Kampen, Zwolle, Nunspeet, Elspeet, Vierhouten, Heerde, Wapenveld, Hattem, Wezep, Eerbeek, Lochem, Maastricht, Bilthoven, Zeist, Eindhoven, Roermond, Vlissingen, Leeuwarden, Epe, Arnhem, Dronten, Schalkhaar, Oostvoorne, Amsterdam, Rotterdam, Zoetermeer, Gouda, Delft, Leiden, Rijnsburg, Ouderkerk ad IJsel, Appingedam, Waalwijk, Roosendaal, Ulvenhout, Heemskerk, Haarlem, Beets, Loenen aan de Vecht, Ochten, Tiel, Elst, Nijmegen, Uitgeest, Arnemuiden, Lelystad, Hilversum, Baarn, Soest, Bussum, Eemnes, Laren,  Driebergen, Vessem, den Oever, Aalsmeer, Alkmaar, Hoorn, Bergen, Egmond, Haarlem, Heemstede, Den Haag, Lienden, Goes, Hellevoetsluis, Vught, Someren, Ettenleur, Arkel, Bodegraven, Oss, Krabbendijke, Middelburg, Tholen, Rhenen, Hattem, Beneden Leeuwen, Doesburg, Zevenhuizen, Lemmer, Apeldoorn, Assen, Enter, Urk, Rijssen, Almelo, Gelderland, Utrecht, Zeeland, Friesland, Noord Holland, Zuid Holland, Flevoland, Drenthe, Groningen, Limburg, Brabant, Overijssel, Zwitserland, België en Spanje.