Carazzo – Pure & Original
Carazzo vloer- en trapverf is een supersterke, universele lak op waterbasis,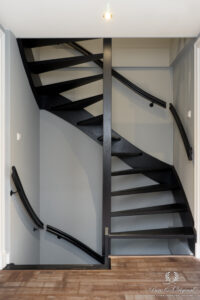 gekleurd met 100% natuurlijke kleurstoffen. De verf is uiterst geschikt voor: trappen, vloeren, deuren, tegels en keukenkastjes. De Carazzo is in alle Pure and Original kleuren te verkrijgen.
Pure & Original vloerverf is
Supersterk

Krasvast

Schrobvast

Water resistent

Huidvet resistent

Zeer mat
Beton- en cementvloeren schilderen:
Het beton moet uitgehard en droog zijn. Beton mag max. 5% vocht bevatten. Ontvet de ondergrond met Pure & Original Super Cleaner. Indien het beton niet poreus is, opruwen tot deze open staat. Test dit met een water vernevelaar. Zodra het water onmiddelijk in het beton trekt, is het beton voldoende poreus en geschikt om te schilderen. Begin met 1 laag CarazzoPrim verdund met 15% water. Laat goed drogen en lak daarna de vloer met 2 à 3 lagen Carazzo.
Hoe breng je Carazzo verf aan?
Het te schilderen oppervlak dient schoon, droog, stof- en vetvrij te zijn. Door een goede oppervlakte voorbereiding help je het verfsysteem in langdurige bescherming.
Verwijder alle oppervlak vervuiling en losse gekraakte verflagen. Inclusief kalk en roest.

Als de ondergrond glanst, deze altijd mat schuren.

Vet, vocht- en nicotinevlekken schoonwassen of verwijderen. Laten drogen en borstelen.

Ondergronden reinigen met Pure & Original Super Cleaner. Nieuwe of oliegedragen ondergronden voorstrijken met Pure & Original CarazzoPrim.
Breng eerst een laag Pure & Original CarazzoPrim aan. Breng de Carazzo in miniaal 2 lagen aan. Hoe meer dunne lagen, hoe duurzamer de verf is. Voor een duurzame vloer zijn 2 à 3 dunne lagen aangeraden.
Tip: zet altijd eerst een proefvlak op.
Technische beschrijving Carazzo
Carazzo gebruiken